Food
Our beef is sourced directly from the producers and dry aged on our premises. The dry ageing process is important as it brings a better flavour to the beef than that of the more common wet aging in cryovac, which in essence is really preserving the beef. This however takes a big commitment as we have many tonnes of beef ageing at any one time. We believe that the types of beef we have are representative of the best of their type in Australia. Blackmore's Wagyu and Cape Grim Grass Fed Beef fit into the strict Rockpool philosophy of humane treatment to the cattle. There are no growth hormones used and no antibiotic feed supplements. This is a rare thing in Australia today, particularly with the standard lot fed cattle.
Bar
The bar at Rockpool Bar & Grill is the perfect venue for a pre or post lunch or dinner drink or for a casual bite to eat. With a no bookings policy, a fantastic bar menu and a cocktail and wine list second to none, it is ideal for those impromptu moments.
Wine
Rockpool Bar & Grill Sydney has an extensive wine list with over 3,000 wines, a full bar of spirits and a selection of bottled beers. You may pre-select from our functions wine list provided or alternatively our Sommelier team will be happy to liaise with you regarding your beverage choices from our full wine list.
Experience Rockpool Bar & Grill
Santiago Aristizabal
Head Chef
Rockpool Bar & Grill Sydney
Santiago Aristizabal is our Head Chef at Rockpool Sydney. Santiago joined the Sydney team in 2009 as a casual chef on a student visa. The Colombian national has proven himself an integral part of the team, working his way up to Sous Chef then Head Chef. Considered by his fellow chefs as an excellent all-round culinary professional, and Rockpool Bar & Grill Sydney's resident beef expert, Santi is an exceptional team leader.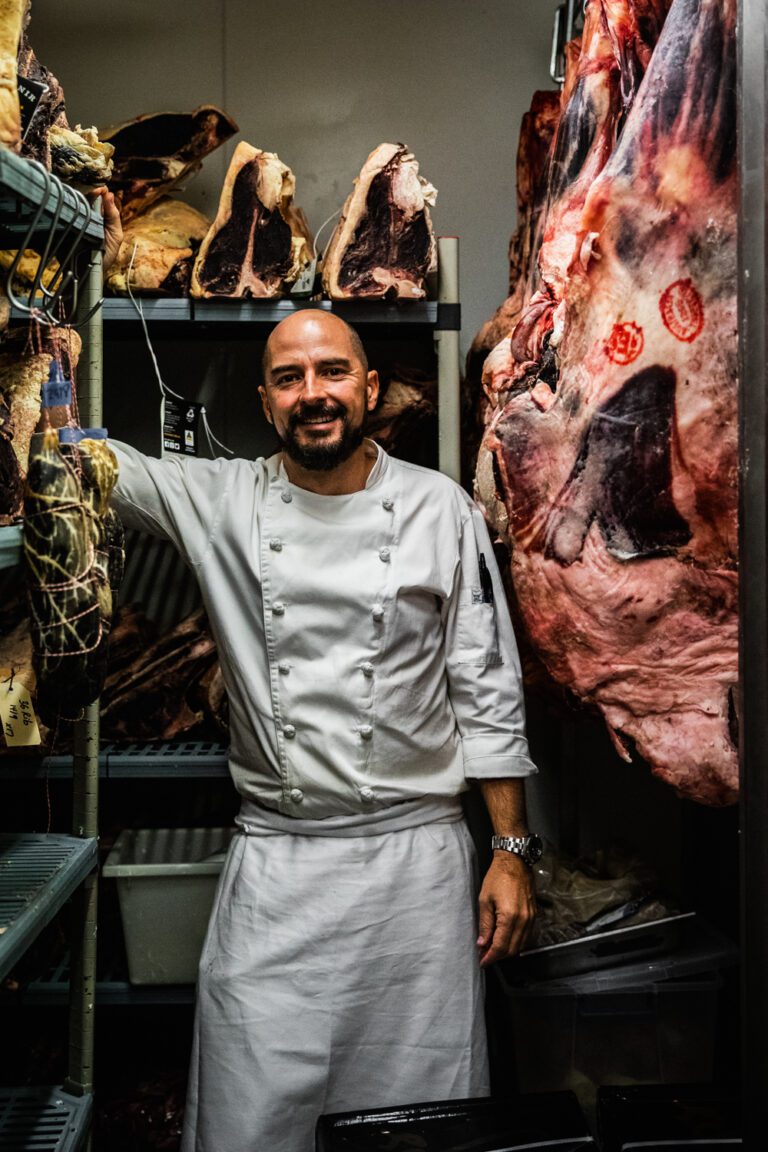 Corey Costelloe​
Culinary Director​
Hunter St. Hospitality
Corey is the Culinary Director of all premium restaurants in the Hunter St. Hospitality portfolio: Rockpool Bar & Grill, Spice Temple, Rosetta Ristorante and Saké Restaurant & Bar.
He oversees the kitchens and culinary teams, new menu development, supplier relationships, back of house recruitment, and mentors up-and-coming team members.

An instinctive love of food as a teenager saw Corey take high school jobs as a kitchen hand as well as helping his uncle at Flemington Markets on Saturday mornings. 
His cooking career began in earnest at the age of 18 as an apprentice chef at Sheraton on the Park in Sydney. His apprenticeship also took him to the acclaimed Catalina Restaurant in Sydney's Rose Bay.
After Catalina, Corey worked at Hayman Island, then Flying Fish with Peter Kuruvita. With years of great experience behind him, Corey joined the Rockpool Bar & Grill Sydney launch team in 2009. In early 2013, Corey took over the reins of the Rockpool Bar & Grill kitchen and with Neil Perry as his mentor, his career moved to the next level. Corey was promoted to the group's Culinary Director in 2021.