Rockpool Bar & Grill events and activations are innovative and unique. Meticulously planned for maximum effect, each brings a dining style that is simple and uncomplicated. Perfectly wood fire-grilled meats and seafood from Australia's very best producers are a perfect match to what is Australia's greatest wine list. View our upcoming events below.
Rockpool Perth
New Seasonal Tasting Menu
Available daily, until Tuesday, 14 June
Tasting Menu: $129 per person
Optional Wine Pairing: $70 per person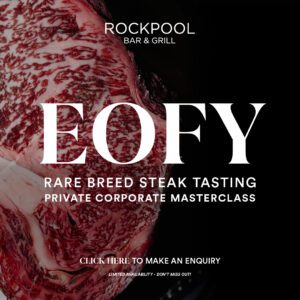 EOFY Team Building Masterclasses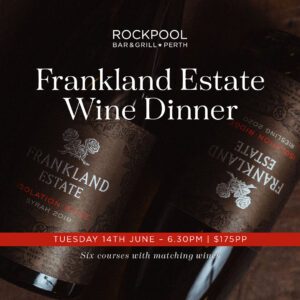 Join us for our exclusive Frankland Estate Wine Dinner.
Hosted by Elizabeth Smith, second-generation, family owner and winemaker, the six-course dinner includes vintage Riesling and Syrah vintage comparisons.
Tuesday, 14 June
6:30pm
$175 per person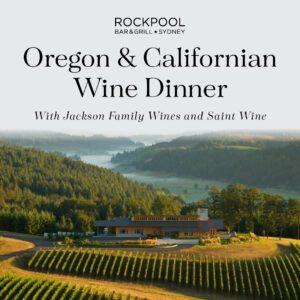 Join us for a one-of-a-kind Oregon & Californian Wine Dinner, in conjunction with Jackson Family Wines and Saint Wine.
Choose two courses of classic Rockpool dishes, plus side dishes and petit fours. Pre-dinner and matched wines from world-class wineries are included.
Wednesday, 22 June
6pm
$289 per person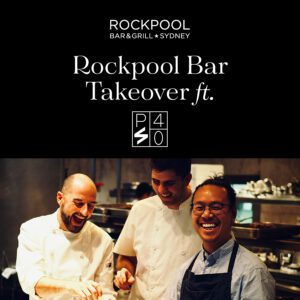 Join us at Rockpool Bar for our inaugural takeover featuring PS40.
Rockpool premium snacks are paired with PS40 cocktails. Each cocktail will incorporate an ingredient cooked over fire, infusing each glorious PS40 drink with the unique flavours of Rockpool.
Includes four snacks and four cocktail samples.
Wednesday, 20 June
6pm
$85 per person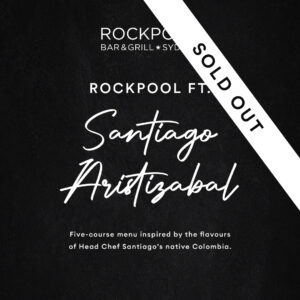 Join us at Rockpool Bar for Sydney's best burgers. 
Enjoy a burger, plus chips and a beer for $25 each.
We don't take bookings in the bar, so just drop by and wait to be seated
Unable to attend an event? We would love to have you join us at one of our locations. See below for more details.
Don't see any events listed? Sign up for our email newsletter to learn about our upcoming events.